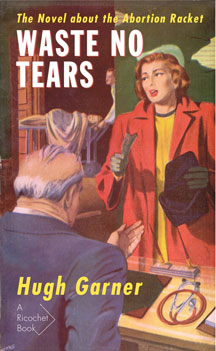 Waste No TearsHugh Garner
With an introduction by Amy Lavender Harris
This story with its shocking expose of social evils, holds a forceful message for both sexes. Its strange mixture of power, tension and torment mark it as a human story that will thrill and grip all readers. Down in the depths of the city, washed by the murky waters of the dock-yards lies Skidrow, a dark den of intrigue and mystery, whose crumbling structures harbour the outcasts of the city.--From the 1950 edition

Hugh Garner's second novel, Waste No Tears hit drug store and train station spinner racks in July of 1950-then disappeared, never to see print again… until now.
Ignored by some critics, dismissed by others, this 'Novel about the Abortion Racket' is the stuff of legend. Garner claimed that it had been written in ten days as part of a struggle to ward off 'incipient starvation.' He was paid $400 for his efforts. Dark and disturbing, Waste No Tears is populated by skid row bums, loose women, tight men, shady doctors and one wanton landlady, all moving about a Toronto that is far less than respectable.
First published under the pseudonym 'Jarvis Warwick'-from Toronto's Jarvis Street Warwick Hotel, a favourite watering hole of the author -this Ricochet Books edition coincides with the celebration of the Garner centenary.
Fiction 2013
Hugh Garner [1913-1979] was a Toronto novelist, short story writer and journalist. He published sixteen books during his lifetime, including Hugh Garner's Best Stories , winner of the Governor General's Award for English-language Fiction.

Amy Lavender Harris teaches at York University. She is the author of Imagining Toronto [2010] which was shortlisted for the Gabrielle Roy Prize in Canadian literary criticism.
The Consulting Editor for Ricochet Books is Brian Busby.
Trade paperback
198 pp 7" x 4.25"
ISBN13: 9781550653663

CDN $14.95 US & International
US $14.95

Ebook
ISBN13: 9781550653717

CDN $14.95