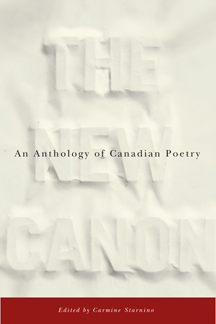 The New Canon: An Anthology of Canadian PoetryEdited by Carmine Starnino
The New Canon: An Anthology of Canadian Poetry offers readers a reliable, if often risk-taking, guide to the last two decades of contemporary Canadian poetry. In the first book to survey the territory since Dennis Lee's landmark The New Canadian Poets was published in 1985, critic and poet Carmine Starnino has collected fifty of the most interesting Canadian poets born between 1955 and 1975, many of whom have never made an appearance in a major anthology.

Selected from the lists of more than twenty presses, and serving up nearly two hundred poems, this indispensable volume attempts to identify an emerging openness towards form in Canadian poetry. Concentrating on poets who have launched innovative attacks on traditional verse modes, The New Canon will do much to challenge prevailing insularities and tastes. Also included is a long essay by Starnino that describes and explains the innovative tendencies of this exciting group.

Among the writers represented are Richard Sanger, Julie Bruck, David McGimpsey, Jeffery Donaldson, Bruce Taylor, Diana Brebner, Laura Lush, Christopher Patton, George Elliott Clarke, Stephanie Bolster, Steven Heighton, Sue Sinclair, Ken Babstock, Elise Partridge, David Manicom, David O'Meara, Karen Solie, Barbara Nickel, and Joe Denham.
Poetry 2005
"Judging from this anthology, Canada's younger generation are more than just promising. Starnino has chosen poems and poets with real sureness of voice, technical inventiveness and a broad range of themes and forms.... [Starnino] has offered us a book of unusual vibrancy and range, and shown himself a persuasive advocate not just of his country's poetry but of his own generation's." -Times Literary Supplement
Carmine Starnino became editor of Signal Editions in January 2001, succeeding founding editor Michael Harris [1981-spring 2001]. He is the author of
A Lover's Quarrel
, a book of criticism on Canadian poetry, and three critically acclaimed poetry collections, the most recent being
With English Subtitles
. His poetry has won the Canadian Authors Association Prize, the David McKeen Award, and the A.M. Klein Prize. Starnino lives in Montreal where he serves as associate editor for
Books in Canada
and
Maisonneuve
.
Other books by Carmine Starnino:
The New World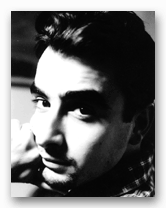 Trade paperback
255 pp 9" x 6"
ISBN13: 9781550652086

CDN $23.95 US & International
US $17.95