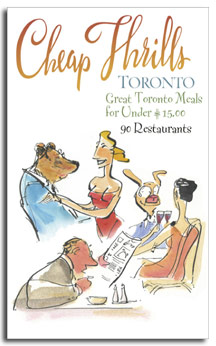 Cheap Thrills Toronto 2008: Great Toronto Meals for Under $15Nancy Marrelli and Simon Dardick
The newest edition to the definitive food lover's guide to affordable quality dining in Toronto. Cheap Thrills reveals to visitors and residents alike Toronto restaurants that offer good food and great value.

Discover 90 restaurants, including 60 new selections and 30 revised and updated Cheap Thrills Classics. In each, the majority of meals on the evening menu are under $15 before taxes, tip, and wine.

Experience the cuisines of the world without leaving Toronto: Greek, Italian, Thai, Portugese, Hungarian, West Indian, Chinese, Middle Eastern, Indian, Korean, Japanese, Ethiopian, French, Peruvian, pub food and more.
Travel 2008
"Perhaps there is a beauty in the logic of mapping; or perhaps the beauty lies in the chaos. The most interesting art performs a simultaneous imposition of order and a resistance to it. This is what Tregebov's book achieves." —Prairie Fire