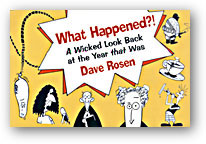 What Happened?!: A Wicked Look Back at the Year that WasDave Rosen
A look back at 1998 as seen through the eyes of cartoonist and humourist Dave Rosen. This book is a potent mix of wickedly funny editorial cartoons and dead-on parodies of the year's top news items. Bill and Monica, Don Cherry the Ice Storm, Boris Yeltsin, the Mir space station, Viagara, Seinfeld, Bill Gates, bank mergers...it's all here and served up with relish by one of Canada's most subversive satirists. Dave Rosen's What Happened?! radio column can be heard every Friday morning on CBC.
Humour 1998
"A wry take on Canada's and the world's ongoing personality dysfunction-biting visuals-potent humour." -Brian Gable, editorial cartoonist, Globe & Mail

Thank God for Dave Rosen. -Don MacPherson, Montreal Gazette

Canada's Dennis Miller. - comedian Martha E. Chaves
Dave Rosen's cartoons appear in Hour, the Montreal alternative weekly, and are featured annually in Portfoolio, a collection of the year's best editorial cartoons. He lives in Montreal where he works as a stand-up comic and broadcaster.
Other books by Dave Rosen:
The Quebec Neverendum Colouring and Activity Book
Trade paperback
144 pp 9" x 6"
ISBN13: 9781550651164

CDN $10.95 US & International
US $10.95