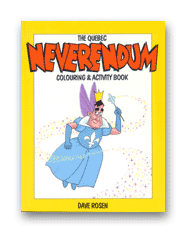 The Quebec Neverendum Colouring and Activity BookDave Rosen
This book comes as a welcome injection of irreverence into Canada's neverending national debate—a whoopie cushion under the seat of political propriety. The Quebec Neverendum Colouring & Activity Book is a spoof of Canada's neverending constitutional crises—combining political satire with a parody of children's activity books. Alternating between humorous, ready-to-colour full-page cartoons and "interactive" games and puzzles.
- Build a Daniel Johnson Puppet! - Help Lucien Bouchard Write a Speech! - Find Out What Jean Chrétien's Plan B Really Means! - How to talk to Anglos - Lucien Bouchard's Top Ten Reasons for Québec to Separate
Humour 1996
Dave Rosen's cartoons appear in Hour, the Montreal alternative weekly, and are featured annually in Portfoolio, a collection of the year's best editorial cartoons. He lives in Montreal where he works as a stand-up comic and broadcaster.
Other books by Dave Rosen:
What Happened?!: A Wicked Look Back at the Year that Was
Trade paperback
64 pp 9" x 6"
ISBN13: 9781550650839

CDN $9.95 US & International
US $9.95