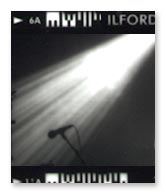 April 22, 2003

REMEMBERING TEDDY EDWARDS

In death as in life, the news of Teddy Edwards' passing
has been overshadowed - this time by the death of
Nina Simone
. My first memory of Edwards is hearing his "Blues In Teddy's Flat" back in the 40s, it was recorded December 4, 1947, in California (where Teddy spent most of his professional life) with backing from Jimmy Rowles, Red Callender and Roy Porter and was released on Ross Russell's "Dial" label on the flip side of a Charlie Parker item - "Stupendous", if memory serves me right. Earlier, on October 18, 1946, he recorded four tracks in Hollywood as a member of a sextet led by trumpeter Howard McGhee that also included Dodo Marmarosa, Arv Garrison, Bob "Dingbod" Kesterson and Roy Porter and those titles, "Dilated Pupils", "Midnight At Minton's", "Up In Dodo's Room" and "High Wind In Hollywood" (actually Monk's "52nd Street Theme") - they rank among the earliest bebop recordings done on the U.S. west coast and Edwards' solos are thought to be the very first bebop solos recorded by a tenor saxophonist. Altoman Sonny Criss remembers playing in a band that worked in L.A. but (sadly) never recorded - McGhee was billed as its leader and it had a four man saxophone section of Gene Montgomery, Criss, Charlie Parker and Edwards. Teddy had recorded as early as 1945, in September of that year he, along with fellow tenormen, Lucky Thompson and Wild Bill Moore, was in the group, "The Boogiereeners" that recorded for the Queen label with Slim Gaillard. Teddy was also with the Clifford Brown-Max Roach Quintet when it was recorded on the West Coast at a Gene Norman concert. He's heard, along with pianist Carl Perkins and bassist George Bledsoe, on the CD "In Concert" (Vogue) from that April 1954 event. It includes one of Edwards' best known compositions, "Sunset Eyes".
He was born Theodore Monroe Edwards on April 26, 1924, in Jackson, Mississippi, and died, after a long battle with prostate cancer, in L.A. just days short of his 79th birthday at 10:30 am Sunday, April 20th . At the insistence of an uncle, he moved to Detriot in 1940 and there whetted his musical chops on clarinet and alto saxophone. He was soon "on the road" traveling with bands led by people like Ernie Fields and ended up in L.A. where he joined an R&B band led by Roy Milton and it was here that McGhee heard him and talked him into switching to the tenor. His first date as a leader was for the "Rex" label - July 1947 with Benny Bailey, pianist Duke Brooks, Addison Farmer and Porter. Eight tracks: "Steady With Teddy", "Bird Legs", "Roy's Boy", "Rexology", "Three Bass Hit", "R.B.'s Wig" and a pair of standards, "Out Of Nowhere" and "Body and Soul". The day he recorded "...Teddy's Flat", he also did a pair of two tenor items with Dexter Gordon, "Hornin' In" and "The Duel" - all the aforementioned recordings (save the Clifford and Max) can be found on "Steady With Teddy (1946-1948) on the European "Cool & Blue" label. He was a founding member of Howard Rumsey's "Lighthouse All Stars" and worked at Bop City in San Francisco. He was reunited on record with McGhee in 1961, "Together Again" (Contemporary) and he had earlier played the first (1958) Monterey Jazz Festival - he appeared there again in 1965 with Dizzy Gillespie. He also recorded with the Gerald Wilson big band and on Benny Carter's 1966, "Additions to Further Definitions" (Impulse). In the 70s he toured Japan with Milt Jackson and was also seen in Norway, Holland and Belgium during that decade. An important event that brought Edwards to a wider audience occurred in the early 80s when he hooked up with singer/songwriter Tom Waits and began touring with him - included, an appearance at Expo Theatre during the 2nd Montreal International Jazz Festival. It was at that event that I got to meet this man who had been an early idol. It was in the dressing rooms of the "Cinquieme Salle" on July 8, 1992. I was talking to my friend pianist John Hicks when some new people entered the room and I found myself face to face with Teddy, it was a thrill and I told him that and talked about owning "Blues In Teddy's Flat" as a teenager. Teddy that night appeared in that hall as the leader of quartet with Richard Wyands, Leroy Vinnegar and Mel Brown - added to Hicks' solo outing, two memorable concerts on the same stage on that same night. That night, as the kitchen at Biddles (or "Bibbles" as Vinnegar called it) was already closed, we headed for St. Lawrence Blvd. and a late night snack at the "Main Deli". It was the last time I was to see Leroy and Teddy. In the ensuing years, Teddy played the Hollywood Bowl, Travelled to NY to record "Volcano Blues" (Verve) with Randy Weston, did a number of sessions of his own for "Verve" and later "High Note" and was heard at the North Sea Jazz Festival in the Hague and at Lincoln Center and California State University in LA.
He also appears on Jimmy Witherspoon's "Singin' The Blues" from 1958, and three "OJC"s, "T'Ain't Nobody's Business", "Songs I Like To Sing" and "Swingin' With Helen" recorded between 1959 and 1961 with Helen Humes. On an Erroll Garner CD on the Classic label there's a 1949 air check of "Cherokee" that also features Teddy and some scatting from Dave Lambert and Teddy hooks up with Joe Turner from some great blues on an item from a 1970 TV show on Hampton Hawes' "Live At Memory Lane". Under his own name available CDs include the 1959 "Sunset Eyes" (Blue Note), "Teddy's Ready" 1960, "Good Gravy" 1961, "Nothin' But The Truth" 1966 and "It's All Right" 1967 with Jimmy Owens and Garnett Brown - all on Fantasy's "OJC" series of releases, "Out Of This World 1980 on the European "Storyville" label and the "Verve" sides, "Mississippi Lad" with Tom Waits guesting, "Blue Saxophone", "Tango In Harlem" - a trio date with Christian McBride and Billy Higgins. "Horn To Horn" on Muse with Houston Person is a two-tenor tribute outing and among the sessions he did for Joe Fields' (High Note) label are another with Person, "Close Encounters" and "Midnight Creeper" a 1997 session with pianist Richard Wyands, one that swells to quintet size with the addition of Virgil Jones on four tracks.
Edwards is survived by his son, Teddy Jr. and Velma Diaz-Infante, a sister. Funeral services were pending as this was written. The family does request that contributions be sent to the "Teddy Edwards Memorial Scholarship Fund", Compton College, 1111 East Artesia Blvd., Compton, Calif. 90221.
Dig out the Teddy Edwards sessions in our collection and give them another listen to the wonderful recorded legacy that Teddy left behind - a most rewarding experience!
© Len Dobbin 2003
Montreal, Quebec, Canada
-30-