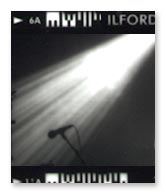 REMEMBERING UNCLE CHARLIE

© Nina Dobbin, February 3, 2003
Charlie Biddle, a Montreal jazz icon
passed away yesterday. My grief has brought me back twenty years to remember, what I feel, are the glory days of jazz in Montreal. Being the daughter of jazz aficionado, Len Dobbin, I spent many wonderful years wrapped in the warm blanket of Montreal's jazz family.
Many have gone on to greater fame, but one of the people you could always count on being readily available for a good jazz session was Charlie Biddle, and the venue has been, for years,
Biddle's Jazz & Ribs
. I feel as though I grew up there, and in part, I did. It was one of the few places my father could bring the whole family to see and hear his personal passion -- Jazz, and an integral part of this experience was Charlie Biddle.
Charlie Biddle, Oliver Jones, Bernie Primeau, Ranee Lee, Richard Ring, Skip Bey, Cisco Normand, Stan Patrick and many, many others were like our extended family. Indulgent "aunts" and "uncles", all of whom made us feel as though we were an important part of this jazz family.
My memories are filled with loving hugs, great music, fascinating conversations, jazz birthday parties with live bands, impromptu jazz sessions and many other treasured moments (like Ranee's chilli!) too lengthy to describe here. Charlie was there through it all.
As I matured and began raising my own family, I drifted away from the nexus of my jazz family, but continued to hear about their triumphs and tribulations through my father. A chance encounter with a favourite "aunt" or "uncle" brought fresh news, pride in their accomplishments and a renewed sense of the warm jazz family of my youth.
Last year, the off-jazz festival put together a show, which brought our family together. Nothing can describe the joy I felt in hearing and seeing all my favourites playing together again. I was transported back in time to relive so many fond memories. Then I realized that the concert was named "The Old Timers" How could this be? They're not old-timers. They have remained frozen in time, this loving jazz family of ours.
Now, I am faced with the loss of a loved one, and I realize that somehow, without my consciously being aware of it, time has passed. I find it hard to accept. I feel as though an era in Montreal's jazz history is ending. This cannot be allowed to happen. And so, I ask the "old-timers" to continue to show the kids what real jazz is all about and ask them and the new generation of jazz musicians to continue the legacy. Teach our young about the love and warmth of Montreal's jazz family.
Play on! And, Charlie – you can accompany from heaven!
- 30 -