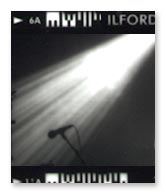 December 12, 2002
LOCAL EVENTS
(Montreal and vicinity)
Last week in Montreal trumpeter, leader, composer, teacher, Joe Sullivan, presented a concert by his students, an evening of music composed by jazz giant Thelonious Monk. It took place on a Monday night in the Clara Lichtenstein Recital Hall of McGill [555 Sherbrooke W]. The music presented was arranged by members of the ensemble and people like Janis Steprans, who contributed a chart on "Evidence". It was a most musical evening by an impressive array of student musicians and arrangers. "SSW" is not just a direction but also the name of a co-op quartet of Steprans, Sullivan and Andre White with the superb Daniel Lessard on bass. They will be unveiling their debut CD, as well as playing, on Monday, December 16th at the Bar Focaccia [2077 University] beginning at 8pm. The Joe Sullivan Big Band will also been launching a CD shortly and will be heard February 5, 2003 at Pollock Hall - watch this column for more on that one.
Speaking of Pollock Hall, the Gordon Foote-directed 'McGill Jazz Orchestra I' was very impressive two weeks ago tackling a cross section of composers and arrangers. Darcy Argue's forward-looking piece, "Flux In A Box" and Josh Rager's arrangement of John Carisi's "Israel" were among the items played. Particularly impressive were trumpeter Steve McKnight, trombonist Jean-Nicholas Trottier and the entire saxophone section: Samuel Blais and Colin Power, altos, Cam Wallis and Jon Stewart, tenors and Paul Nedzela, baritone. There is a probability that the band will be heard again in January as a prelude to their appearance at I.A.J.E. (International Association of Jazz Education) convention in Toronto later that month - this will be the first time that event has been held outside of the U.S.A.
Upstairs [1254 Mackay] A very exciting group led by trumpeter/trombonist Mike Herriott was heard here on Sunday. The group, Pat Coleman, guitar, Ken Lister, bass and Blaine Wikjord, drums were on a cross-Canada tour and added Kelsley Grant for the Montreal engagement. Ernie Nelson is there tonight and the weekend attraction [Friday and Saturday] will be a quartet led by the Doxas brothers, drummer Jim and tenorman Chet. Those two plus bassist Zack Lober make up "byproduct" and that group will be appearing and launching their first CD on Sunday. Upcoming weekend attractions: the Jean-Francois Groulx Trio, December 20-21; the Joito Latin Jazz Quartet returns the 27-28 and the New Year's Eve attraction will be a Kevin Dean organ quartet with Dave Turner, Greg Amirault and Andre White.
Biddles' [2060 Aylmer] present lineup: Sunday is jam session night under the direction of reedman Dave Turner [a prof at Concordia] - his pianist John Roney, is another good reason for a visit. On Mondays and Tuesdays, "The Paradise Band" is the attraction with the unsung Richard Parris featured on tenor. Johanne Desforges is here on Wednesdays and Geraldine Hunt, Thursdays. The trio of Steve Amirault, one of my favourite pianists, is the early attraction on Fridays and Saturdays and, later those nights, the quartet of singer/tenorman Johnny Scott with the excellent Geoff Lapp on piano is featured - joined by vocalist Stephanie Biddle.
The trio of tenorman Malcolm Travis remains the Sunday attraction at Else's on Roy at De Bullion and "The Savoy Ellingtons", with Robin Greig on piano and Wali Muhammad, drums, continues, Thursdays and Fridays at [what's now called] the Monte Cristo Sushi and Jazz Lounge, 1466A Crescent. For traditional jazz fans, The Jazz Knights Dixieland Band continues to appear on Tuesdays at Kelly's Pub [88 Donegani, Pte. Claire]. The series, "Les Lundis du Cheval Blanc" [801 Ontario E.] opened December 2 with the trio of Jean Derome, Normand Guilbeault and Pierre Tanguay. Fred Frith who was born in Sussex, England, joins Derome and Tanguay at La Salla Rosa [4848 St. Laurent] on Friday at 9pm. Frith has recorded with the group "Naked City", on bass and with John Zorn, on guitar. The same night at 9:30 the 'No Name Jazz Sextet' - Alexandre Cote, Roberto Murray, Aron Doyle, Vincent Rehel, Frederic Grenier and Ugo Di Vito, is at Va-et-Viens [3706 Notre Dame W.] at 9:30. Tonight at Clara Lichtenstein Recital Hall [555 Sherbrooke W], Pierre Francois coordinates students in the Conservatory Jazz Combos and Large Ensembles program at McGill. On Saturday, Ottawa-born pianist D.D. Jackson brings his trio of Ugonna Okegwo and Dafnis Prieto, into Salle Pierre Mercure [de Maisonneuve at Sanguinet] on Saturday at 8pm - D.D.'s latest is 'Sigame' recorded at the Hit Factory in NYC in the summer of 2001, it's on Justin Time. 'Berlin Expedition', which includes singer Mary Ann Lacey and pianist Felix Stussi, hits at O Patro Vys [356 Mt. Royal E] on Tuesday, the 17th at 8pm and for blues fans Bobby 'Blue' Bland opens for B.B. King at Salle Wilfrid-Pelletier of P des A on Sunday, January 26.
UPCOMING EVENTS
The Montreal International Jazz Festival has announced a number of events of interest to the jazz fan. On February 23 (my birthday) Ibrahim Ferrier [of Buena Vista Social Club fame] will be at Salle Wilfrid-Pelletier of Place des Arts; on the 25th of that month, in the same venue, it's pianist Ellis Marsalis and sons, reedman Branford, trumpeter Wynton, trombonist Delfeayo and drummer Jason joined by bassist Reginald Veal. Vocalist Karen Young [Coral Egan's mother] appears at the Spectrum on February 28 and pianist / composer Lorraine Desmarais is at the Outremont Theatre on March 15. The Django-inspired 'Gypsy Project' led by guitarist Bireli Lagrene is the March 22 attraction at the Spectrum with 'Ipso Facto' opening. In April, the duo of Sylvain Provost and Norman Lachapelle [they're cousins] opens for the Susie Arioli Swing Band, featuring the guitar of Jordan Officer, at the Spectrum on the 12th. The 'Afro-Cuban All-Stars' are at the Metropolis on the 24th and Kurt Weill specialist, singer Ute Lemper is in Theatre Maisonneuve of PDA on the 27th. Info: (514) 790-1245 or 1 800 361-4595 or on the site
www.montrealjazzfest.com
NYC Happenings
On December 5th in NYC at the New School Jazz Performance Space, 55 West 13th Street (between 5th and 6th Avenues) the 'Jazz Composers Collective' presented a double bill of 'Fieldwork' composed of Vijay Iyer, piano, Elliot Humberto Kavee, drums and tenorman Aaron Stewart plus Ted Nash & 'Still Evolved' featuring the leader on tenor, Marcus Printup, trumpet, Frank Kimbrough (of Herbie Nichols Project fame) piano, Ben Allison, bass and Matt Wilson, drums. 'Fieldwork' has released "Your Life Flashes" on the Pi label. A 73rd birthday party for Barry Harris will take place Sunday, December 15 at La Belle Epoque [827 Broadway near 12th Street] with music supplied by Charles Davis, guitarist Roni Ben-Hur, Richard Wyands, Walter Booker and Leroy Williams.
Boston
On Saturday, December 21 [at the Copley Theatre], the Equinox Music Festival will be presenting its 2nd Annual holiday event celebrating the musics of Christmas, Kwanzaa, Chanukah and the Fiesta de Tres Reyes - an event that will feature the Boston Jazz Repertory Orchestra.
Toronto
In what has become a holiday tradition, the excellent Dave McMurdo Jazz Orchestra will be at the Montreal Bistro [65 Sherbourne]. The date is Monday, December 16th and among the band's featured soloists are Don Thompson, Mike Malone, Alex Dean and Kevin Turcotte. Vocalist Emilie-Claire Barlow is the headliner at the Bistro this week. On Friday at the Rex Hotel [194 Queen W] singer Melissa Stylianou appears with Kim Ratcliffe, guitar and Artie Roth, bass.
The following night she appears with the 'Spitfire Band' at the Roselawn Centre [296 Fielden Ave] in Port Colbourne. Melissa joins up with two other singers, Jennifer Ryan and Sara Latendresse and bassist Drew Birston and pianist Ron Davis for a concert in the Atrium of the Princess Margaret Hospital located on Toronto's University Avenue - '8 To The Bar' hits at noon on Wednesday, December 18. Melissa returns to the Rex with her trio for a 6:30 appearance on December 27. If you haven't already, check out her CD, 'Bachelorette'.
MILESTONES - Period - December 12-18
A number of musicians important to the Canadian scene were born in this time frame: December 12 - Mike Murley, 1961 and pianist Chris Gage, 1927, the 14th - vibraphonist Stefan Bauer, 1956 and drummer Dylan Van Der Schyff [pronounced 'skafe'], 1970 and the 17th - reedman/pianist Phil Dwyer, 1965 and Tommy Banks, 1936.
BIRTHS AND DEATHS
December 12:
Frank Sinatra, 1915, Joe Williams, 1918, Singer, composer, co-author of 'I'm Hip', Bob Dorough, 1923, pianist Dodo Marmarosa, who recorded with both Lester Young and Charlie Parker, 1925 and Toshiko Akiyoshi, pianist, bandleader and composer, 1929. The great singer Mildred Bailey died on this date in 1951, age 44 and pianist Joel Shulman, who recorded in the U.S. as Joe Saye, died in Toronto at the age of 72.
December 13:
A pair of drummers, Sonny Greer, with Ellington for many years, 1895 and the lesser known, Mickey Sheen, who recorded for Felsted with Coleman Hawkins, 1927 and bassist Ben Tucker, 1930. Educator, trombonist Marshall Brown, who did some interesting quartet sides with Pee Wee Russell, died in 1983, age 62.
December 14:
Reedman, arranger Budd Johnson, an important musician, particularly at the outset of the bebop era, 1910, Al King, the bassist in the Louis Metcalf 'International Band" at Montreal's 'Café St. Michel', 1916, phenomenal pianist Phineas Newborn, Jr., 1931, trumpet great, Clark Terry, who worked with both Basie and Ellington [he played the Seville Theatre with both], 1920, noted baritone saxophonist Cecil Payne, 1922 and Leo Wright, who played alto and flute with Dizzy Gillespie, 1933. Mary Ann McCall, a somewhat forgotten singer, best known for her work with the Woody Herman band, died at the age of 75 in 1994.
December 15:
Gene Quill, an altoman who worked with the Johnny Richards big band and co-led a quintet with Phil Woods ['Phil & Quill'], 1927, a pianist, educator, a man considered the 'Father of Detriot', Barry Harris, 1929, another man from the same city, trombonist Curtis Fuller, 1934, longtime Mingus drummer, Dannie Richmond, 1935. Vibraphonist Johnny Lytle died in 1996, he was 63.
December 16:
Composer Andy Razaf, think Fats Waller and Billie Holiday, 1895, Sam Most, a major flute player beginning in the 50s and a fine clarinetist - he played the Jazz Workshop here back then, 1930 and guitarist John Abercrombie, who recorded here with both Bob Mover and Jeff Johnston, 1944. A great Canadian pianist [along with Maury Kaye, a personal favourite of Pepper Adams], Kenny Alexander died at the age 58 in 1987.
December 17:
Composer, arranger Sy Oliver, important to the Lunceford and Tommy Dorsey bands, 1910, drummer Walter Bolden, part of the Horace Silver trio that Stan Getz hired en masse, 1925, fiery alto player, Sonny Red [Kyner], another Detriot product, 1932 and bassist John Ore, who lived in Montreal for a spell, 1933. In 1987, Warne Marsh, one of the music's greatest improvisers, died during a performance, he was 60.
December 18:
Bandleader, arranger, Fletcher Henderson, most important to the success of the Benny Goodman band, 1897, singer, altoman, Eddie 'Cleanhead' Vinson, who wrote 'Tune Up' and 'Four', 1917, guitarist Barry Galbraith, who got the first call when the music was of the difficult variety - I was at a Gunther Schuller rehearsal in 1963, when Jim Hall took one look at the music and said, "You better call Barry!" and singer Anita O'Day who first came to fame with the Gene Krupa band, both 1919, singer Big Miller, who settled in the Canadian West, 1922, tenorman Harold Land, heard on the soundtrack of "The Manchurian Candidate", 1928, Montreal's Galt MacDermot, who wrote both the jazz hit, 'African Waltz' and the musical, 'Hair', 1928 and a drummer who worked with the aforementioned, 'Phil & Quill', Nick Stabulas, 1929.
RECORDED MILESTONES
75 YEARS AGO


On December 12, composer, pianist, vocalist Hoagy Carmichael recorded "So Tired" as a vocalist with the Jean Goldkette Orchestra in Kansas City and the following day in Chicago, Louis Armstrong's 'Hot Five' recorded "Hotter Than That" and "Savoy Blues"
65 YEARS AGO


December 13, band leader Andy Kirk recorded Larry Clinton's "The Big Dipper" - Ed's dad, Ben Thigpen was the drummer in that band. Four days later Ella Fitzgerald recorded 'I Want To Be Happy", "The Dipsy Doodle", "If Dreams Come True" and "Hallelujah" with Chick Webb.
55 YEARS AGO


December 12, the Count Basie band recorded Phil Moore's "Hey, Pretty Baby" with a vocal by Jimmy Rushing, December 15, in Montreal, Oscar Peterson recorded "Oscar's Boogie", "Smile", "Stairway To The Stars" and "Poor Butterfly" with bassist Ozzie Roberts and [left handed] drummer, Clarence Jones, the Claude Thornhill band recorded Gil Evans arrangement of Parker's "Yardbird Suite" which featured a 20 year old Lee Konitz on alto on the 17th and the next day, the ill-fated, Swedish clarinetist Stan Hasselgard, with a group including Red Norvo and Barney Kessel, did Red's, "Who Sleeps".
50 YEARS AGO
On December 12th Stan Getz did recorded eight tracks with a group composed of the great Jimmy Raney, Duke Jordan, Bill Crow and another unsung musician, drummer Frank Isola. Included were "Lover Come Back To Me", "The Way You Look Tonight" and "Time On My Hands". Three days later a Basie sextet with Joe Newman, Paul Quinichette, Freddie Green, Gene Ramey and Buddy Rich did items like "Royal Garden Blues" and "Blue and Sentimental".
45 YEARS AGO


On December 18 and 19, vocalist Helen Merrill was in Chicago recording items that included "Summertime", "I Remember You" and "Dearly Beloved" with musicians like Dick Marx and John Frigo.
25 YEARS AG0


On December 12, influential drummer "Papa" Jo Jones did a quartet date with Hank Jones (no relation), Major Holley and a tenorman whose playing Miles Davis was fond of, Philadelphia's Jimmy Oliver.
15 YEARS AGO


On December 17, baritone saxophonist Glenn Wilson did a date with Bob Belden, Jim Powell, Harold Danko, Denis Irwin and Adam Nussbaum that included a tribute to Pepper Adams called "Adams Park (for Pepper)" - Pepper was born Park Adams III - he said the name was a family curse.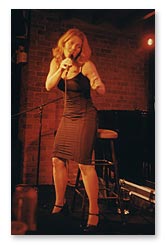 Coral Egan - photo: Len Dobbin
LEN'S TOP 15 OF 2002
(In alphabetical order)
ARTIST TITLE LABEL
Coral Egan The Path of Least Resistance Nisapa
Andrew Hill A Beautiful Day Palmetto
Dave Holland What Goes Around ECM
Christine Jensen A Shorter Distance Effendi
Joe Lovano Viva Caruso Blue Note
Kirk MacDonald Pure & Simple Justin Time
Geordie McDonald Bridge To Everywhere SV
Dave McMurdo Just For Now Sackville
Stephanie Nakasian Lullaby In Rhythm V.S.O.P.
Hod O'Brien Fine and Dandy Fresh Sound
Kenny Wheeler Moon Egea
Enrico Rava / Stefano
Bollani Montreal Diary / B Label Bleu
Jimmy Scott But Beautiful Milestone
John Stetch Ukrainianism Justin Time
Mary Lou Williams Live at the Keystone Korner High Note
NEW ARRIVALS
On "Conundrum" [McGill], Gordon Foote leads the McGill Jazz Orchestra(s) [his student bands from the academic years 1999-2000 and 2000-2001] in a varied [11 track] program. Among the highlights, a Hank Levy arrangement of 'A Time For Love' and an adventurous piece, 'Lickety Split' by the largely unsung Jim McNeely. There is also music from the pens of Chick Corea, John Coltrane, Quincy Jones and Bill Holman with Donny Kennedy, Jim and Chet Doxas, Cam Wallis (on baritone), Al McLean, Sean Craig and Jon Mossing among the soloists. "Live In Haarlem" [Jazz Colours] is a trio outing by influential [Montreal-born] pianist Paul Bley - this 1966 recording from Europe sees him joined by bassist Mark Levinson and drummer Barry Altschul on extended looks at a pair of Annette Peacock compositions, 'Blood' and 'Mr. Joy'. By the way Altschul once told me that while he was still in high school he played [during his summer vacation] with guitarist Billy White at the Bamboo Cage [Montreal's first health food restaurant]. Trombonist / pianist / composer / educator, Hugh Fraser has two new releases. "A Night In Vancouver" [Boathouse] which guests Slide Hampton on trombone features [with the exception of the tenor chair] the same band he brought into Club Soda recently - Cam Ryga, alto, Ross Taggart, tenor, Ken Lister, bass and Dave Robbins, drums. Six tracks, four by Fraser and one each from Charlie Parker and Jerome Kern. The other, "Major Works" [Boathouse], is aptly named as it presents his large ensemble "Veji" [Vancouver Ensemble of Jazz Improvisation] plus strings in a program of two of Fraser's extended works, 'Concerto For Jazz Orchestra' and his 'Mass In C Minor'. Among those on board, Ryga, Robbins, Taggart, Brad Turner, Ian McDougall and Christine Duncan. Vocalist Melody Diachun now makes Vancouver her home after stays in Montreal and NYC [where she studied with Sheila Jordan]. On "Lullaby of the Leaves" [M.D.] she's joined by hubby Doug Stephenson on bass and guitar and pianist Bob Murphy in a program of standards and her own originals. "Pourquoi" [Effendi] is an impressive debut for Montreal-based pianist Andree Boudreau. On ten of her own compositions, she's joined by the versatile Michel Dubeau on bass clarinet, tenor and soprano, Eric Auclair, bass and Jean-Francois Barbeau, drums.
A number of new arrivals should appeal to guitar fanciers. Carl Filipiak's "Looking Forward, Looking Back" [Geometric] has nine tracks including music by Milton Nascimento, Charlie Parker, Charles Mingus, John Coltrane and the leader - Dennis Chambers guests on this one. "Phoenix Rising" [Arthur Circle Music], ten originals by leader Ken Hatfield, has Claudio Roditi on trumpet and Billy Drewes on tenor. Kurt Rosenwinkel is featured on vibraphonist Matthias Lupri's "Same Time Twice" [Summit]. Mark Turner, Reuben Rogers and Gregory Hutchinson are the others heard on music written by Lupri. Larry Coryell can be heard on 'Nadda Chants (9 on 12)' [Essay Music] by Stick player, Steve Adelson and Larry also turns up, along with Joe Beck and Rodney Jones, on veteran drummer Chico Hamilton's "Thoughts of..." [Koch]. The West Coast group '3 Guitars' is heard on "Live at the Jazz Bakery" [Art Song Music]. It's members, John Stowell, Frank Potenza and Pat Kelley are presented in a program of standards including A.C. Jobim's 'Once I Loved' and Jerome Kern's 'Yesterdays' and don't miss [Gerald's son] Anthony Wilson's playing on Diana Krall newest [Verve] recorded live in Paris.

BOOKS


Oscar Peterson must have dictated his autobiography "A Jazz Odyssey" to Richard Palmer, a writer and huge Peterson fan, who is based in England. As a result there is a problem with the spelling of Montreal musicians that O.P. encountered early in his career, Willy Girard becomes Willy Gerard, Allan Wellman is Alan Wilman and Buddy Jordan is listed as Jordon. I also seem to recall it being "Ciro's" and not 'Cyro's" and I believe it's MARLOWE Morris.
IN THE NEWS


Jazz pianist [and financier] Steve Holt was a finalist in 'USA Songwriting Competition". The former Montrealer is among ten finalists in the Latin category with his piece, "Soon". Baritone saxophonist Mike Brignola [no relation to Nick], who joined the Woody Herman 'Thundering Herd' in 1980 and went on to become the band's road manager as well, is in Sacred Heart Medical Center in Spokane, Washington in serious condition - the result of his car being struck by a SUV on November 24th. Get well wishes can be sent to him c/o Sacred Heart Medical Center, P.O. Box 2555, Spokane, WA 99220, USA.
RADIO

This week's radio version of "Dobbin's Den", 11am -1pm, Sunday, December 8, on CKUT 90.3 fm / www.ckut.ca in real audio, will include music by Joe Williams, Kenny Wheeler, Gene Quill, Curtis Fuller and Barry Harris plus a memorial salute to Bob Berg.
© LEN DOBBIN 2002