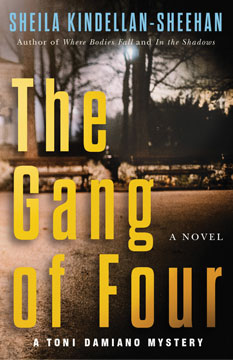 The Gang of FourSheila Kindellan-Sheehan
The nightmare began on a warm summer night. A six-year-old boy was found in a park shack, bludgeoned to death in the quiet residential district of Montreal's Notre-Dame-de-Grâce. Soon after, an eight-year-old boy disappeared. Horror and fear gripped the city. Neighbourhoods went silent. Suspects were questioned, suspicion and alarm mounts. No arrests were ever made.

When Lieutenant Detective Damiano discovers the cold case many years later and learns that the three suspects are still alive, she's hooked, on what cops call a Detective's Case. Her partner, Detective Pierre Matte, hesitantly agrees to work with her. They meet Kathryn Flynn, the ninety-year-old mother, who has kept meticulous files throughout the years--her hope has never faltered. Damiano and Matte rediscover what binds them, a reckoning for the murderers among us and justice for the victims who have no voice.
Véhicule Press
2019
"The Gang of Four is the story of a mother's love and perseverance to uncover the fate of her first-born son amid secrets buried deep in Montreal's past. While those secrets are being uncovered, we see how decades of guilt have followed the actual gang of four, affecting every facet of their lives from childhood to parenthood with seemingly no way out. This is Kindellan-Sheehan's finest work yet." - Sonali Karnick, host of All in a Weekend, CBC Radio
Trade paperback
240 pp 8.5" x 5.5"
ISBN13: 9781550655346

CDN $19.95 US & International
US $15.95

Ebook
8.5" x 5.5"
ISBN13: 9781550655391

CDN $19.95