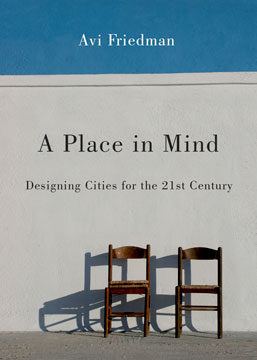 A Place in Mind: Designing Cities for the 21st Century, Revised EditionAvi Friedman
What makes successful people-friendly places in our cities.

A Place in Mind: Designing Cities for the 21st Century is the result of Avi Friedman's worldwide quest for successful environments where people congregate and feel comfortable. Whether he writes of the conviviality of a teahouse in Istanbul; the serenity of Assisi; the squatter settlements of Tijuana, or the architectural harmony of neighbourhoods in London, Friedman conveys his excitement at discovering people-friendly places—antidotes to social isolation.

His search for unique spots took him to spiritual places, workplaces, towns' squares, very cold places and warm ones. They made themselves known unexpectedly, and affected him in some way. He went on to look into their distant and near history, origins and effect on civilizations, the people that inhabit them, and above all, to reflect on what made them special.

Published originally in 2010, this is a completely revised edition including new essays and photographs.
Architecture 2016
If you are looking for a good book to read, consider picking up a copy of Avi Friedman's A Place in Mind. –Richard White, Calgary Herald

Trade paperback
264 pp 7" x 5"
ISBN13: 9781550654523

CDN $19.95
Ebook
7" x 5"
ISBN13: 9781550654585

CDN $19.95