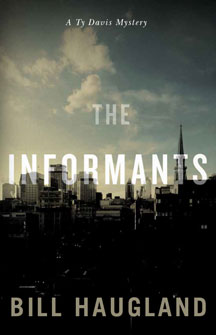 The InformantsBill Haugland
A Ty Davis Mystery.

A bloody battle between rival motorcycle gangs leads television reporter Ty Davis into yet another dangerous encounter with a big-city's underworld. His on the scene account of the violence, for CKCF Television's "Flash News," draws Davis and his colleagues into a complex web of drug-smuggling and murder. Turf wars pit local criminal bikers against each other, even as the American-based Hells Angels threaten to establish an unprecedented foothold in Canada. Law enforcement agencies in both countries deal with a deadly alliance between two, powerful mafia families. A multi-million dollar Canada-U.S. drug conspiracy hangs in the balance and one cop and his street informants appear to stand in its way. Davis … stands in the middle.
2015
Bill Haugland
was news anchor at Montreal's largest English-language television station for twenty-six years. He is the author of the first Ty Davis novel,
Mobile 9
(Véhicule 2009),
The Bidding
(Véhicule 2011), and the short story collection
After it Rains
, nominated for the 2014 ReLit Awards.He lives in Vermont.
Other books by Bill Haugland:
Portals
Mobile 9
The Bidding
After it Rains

Trade paperback
218 pp 805" x 5.5"
ISBN13: 9781550654288

CDN $20.00 US & International
US $20.00

Ebook
805" x 5.5"
ISBN13: 9781550654356

CDN $20.00