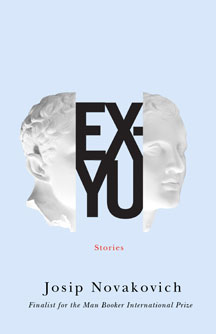 Ex-YuJosip Novakovich
Short story writer, novelist and essayist Josip Novakovich returns with his first collection of stories since being named a finalist for the prestigious 2013 Man Booker International Prize. In Ex-Yu, he explores the major themes of war and exile, of religiosity and existentialism, that have defined his fiction and earned him a place among the pantheon of international writers addressing contemporary literature's most pressing questions. Masterpieces such "Honey in the Carcase", "White Mustache", and "Acorns", unflinching in their humanity and realism, take us into the brutal despair of the Bosnian War. In between, dry humour and world-weary wisdom infuse such exile preoccupations as soccer, terrorism, and cigarettes. Taken together, this latest collection comprises a bravely intelligent mosaic of what it means to be torn from one's country and one's self.

Praise for Josip Novakovich:

"There are very few native-born English speakers who write as well." –Tibor Fischer, The Guardian
Esplanade Fiction
Fiction 2015
"Novakovich's characters, who are generous, flawed, violent, and rooted in an understanding of the earth." -Montreal Review of Books
Josip Novakovich
was a finalist for the 2013 Man Booker International Prize. He has published the novel,
April Fool's Day
, three short story collections including
Infidelities
, and four collections of narrative essays. He has been anthologized in
The Best American Poetry, The Pushcart Prize Anthology
and
The O. Henry Prize Stories
. He teaches Creative Writing at Concordia University, Montreal.
Other books by Josip Novakovich:
Tumbleweed
Trade paperback
240 pp 8.5" x 5.5"
ISBN13: 9781550654226

CDN $19.95
Ebook
8.5" x 5.5"
ISBN13: 9781550654301

CDN $19.95