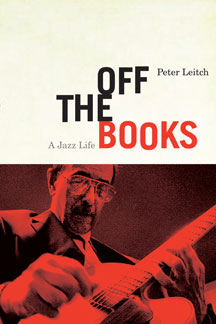 Off the Books: A Jazz LifePeter Leitch
The inner workings of the jazz "business."

"Off the books" refers to a life lived outside of conventional 9 to 5 society. Jazz music itself is "off the books" as far as much of pop culture is concerned. Many jazz lives have unfolded as marginal existences, as jazz guitarist Peter Leitch attests in this honest memoir. Off the Books: A Jazz Life is the story of a life lived in search of excellence in music and art, but also a life lived battling depression and alienation, and overcoming narcotics addiction. Leitch vividly relates a life lived trying to eke out a living in jazz clubs, nightclubs and studios in Montreal, Toronto and New York. He tells of growing up as an Anglophone in Montreal's working class and predominantly French-speaking East End refinery district, discovering jazz on CBC radio and learning to play it-outside of the academy.
Biography & Autobiography 2013
"A candid memoir by one of Canada's finest jazz expats." –Peter Robb, Ottawa Citizen

"I sat down to read Off the Books, and didn't stop until I had finished it. Peter Leitch has an unblinkingly honest view of the world which makes this book a must-read for any lover of jazz. His warmth and wry humour find their way into his writing just as they do in his playing."

Praise for Peter Leitch:

"His warm, singing lines...have both a melodic grace and a rhythmic strength." –John S. Wilson, New York Times

"Pumping out a steady flow of top-flight jazz albums...his works has been remarkably unpredictable and always fresh. –The Penguin Guide to Jazz
Peter Leitch has played with many musicians in his long career such as Oscar Peterson, Jaki Byard, Renee Rosnes, Jeri Brown, and Sadik Hakim. He lived and played in Montreal during his early years, Toronto in the 1970s and in New York since 1982, which comprises the largest section of the book, chronicling the inner workings of the jazz "business."
Trade paperback
188 pp 8.5" x 5.5"
ISBN13: 9781550653489

CDN $20.00 US & International
US $20.00