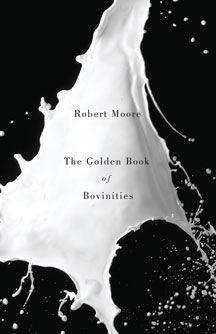 The Golden book of BovinitiesRobert Moore
Illustrated by Chris Lloyd
If cows could talk, what would they say?The Golden Book of Bovinities represents the collective wisdom of centuries of bovine self-awareness.On its surface, Robert Moore's fourth collection is a running ledger ofaphorisms, maxims and injunctions that lay bare the mystery behindthose docile cud-chewers. Deeper down, however, the book is anindictment against the inhuman cruelty we inflict on each other aswell as on the non-human world. A tour de force allegory about ourpost-9/11 world,The Golden Book of Bovinites contains some of thefreshest, funniest, most startling poetry you will ever read.
Signal Editions
2012
Robert Moore
's previous books are
So Rarely in Our Skins
[2002],
Museum Absconditum
[2006] and
Figuring Ground
[Wolsak & Wynn,2009]. He has been a finalist for the Atlantic Poetry Prize and the ReLit Award. He lives in Saint John, New Brunswick.
The former director of Halifax's Khyber Centre for the Arts,
Chris Lloyd
has had solo exhibitions at the Art Gallery of Nova Scotia and the Art Gallery of Calgary and participates in group exhibitions across Canada. He lives in Montreal.
Other books by Robert Moore:
Based On Actual Events

Trade paperback
88 pp 8.5" x 5.5"
ISBN13: 9781550653373

CDN $18.95 US & International
US $18.95