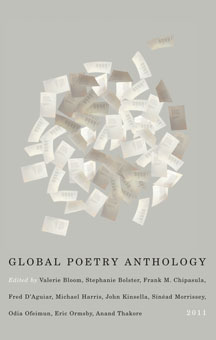 Global Poetry Anthology 2011Edited by Editors of the Global Poetry Anthology
The Montreal International Poetry Prize [MIPP] is the first and only global poetry competition awarding $50,000 for one poem. The international jury [below] of ten distinguished poets from Africa, Asia, Australia, Europe and the Americas will select the top 50 entries. This shortlist will be published in the ground-breaking Global Poetry Anthology. From this anthology Andrew Motion will select the winner of the 2011 prize.


Andrew Motion was Poet Laureate of the United Kingdom from 1999 to 2009. He is Professor of Creative Writing at Royal Holloway, University of London. He was knighted for his services to literature in 2009. His most recent collection of poems is The Cinder Path [Faber, 2009].
Signal Editions
Poetry 2011
"Solway's work has a rushing metaphoric brilliance, but it is always informed by a knowing humour." —Saturday Night

"This is writing of a very high order." —Canadian Literature
Global Poetry Anthology 2011 is edited by Valerie Bloom,Stephanie Bolster Frank M. Chipasula, Fred D'Aguiar, Michael Harris, John Kinsella, Sinéad Morrissey, Odia Ofeimun, Eric Ormsby and Anand Thakore.
Other books by Editors of the Global Poetry Anthology:
Global Poetry Anthology 2015
Global Poetry Anthology 2013
Trade paperback
88 pp ISBN13: 9781550653182

CDN $18.00 US & International
US $18.00