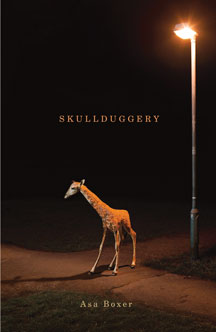 SkullduggeryAsa Boxer
The poems in Skullduggery, Asa Boxer's masterful new book, have a simple warning: trust nothing. Like the book's hilarious final poem, which recasts Canada's discovery as a hoax from the Middle Ages-Boxer transforms shortfalls of perception into tour de force performances. Drawing on a deepened range of forms [comic set-pieces, verse-plays, dramatic monologues] Skullduggery embraces deception as both theme and tactic. In poem after poem, encounters test the threshold of what's real and what's not; turns of phrase appear to say one thing, but really mean another. What is without doubt, however, is that Boxer strengthens his status as one of our most gifted young poets.
Signal Editions
Poetry 2011
"Boxer successfully marries the heritage of past and present, while taking a playful interest in genre, formal constraints and the music wrought by carefully-turned language. A delight to read and read again. Asa Boxer is a true master of language- and he knows it. This collection is at once belly-shakingly funny, piercingly insightful, ironic, and melodically composed. The poems are a smooth read, but the reader is also drawn back to each cleverly crafted line. Boxer gives the reader room to feel that he/she is in on the joke. If poetry was ever 'meant' to be some way, this is it." ---2011 QWF Jury.
Montreal writer Asa Boxer won first prize in the 2004 CBC/enRoute poetry competition for his poem cycle entitled "The Workshop," which is included in The Mechanical Bird. He was also shortlisted for the 2005 CBC Literary Awards. His poems, articles, and reviews have appeared in London Magazine, Arc, Books in Canada, Maisonneuve and CNQ.
Other books by Asa Boxer:
Mechanical Bird

Trade paperback
76 pp 8.5" x 5.5"
ISBN13: 9781550653120

CDN $18.00