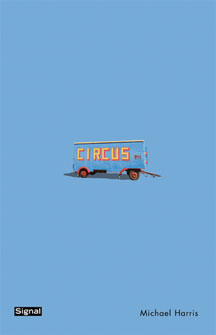 CircusMichael Harris
Awards: Nominated for the Governor General's Literary Award for English Language Poetry
Everyone loves a circus, and Michael Harris's first collection since his much-acclaimed Selected Poems [2002] offers readers the chance to run away and join a project of great originality and distinctiveness.

Stocked with colourful personalities who earn their living under the Big Top-from clowns to acrobats, tightrope walkers to lion tamers-Circus recreates the drama and mystique of the centre ring with enough peek-behind-the-curtain moments to ground this secret society in the nitty-gritty of marriage, parenthood, old age, and death. And, like a high-wire act in itself, Harris's poems put on a show to be marveled over: carefully choreographed, death-defying, full tumble and daring.
Signal Editions
2010
Michael Harris is a two-time winner of the CBC Literary Competition, he also has edited poetry books and anthologies and translated the complete poetry of Marie-Claire Blais [Veiled Countries Lives]. He runs Montreal Books, a rare and used Internet bookshop. He lives in Montreal, Quebec.
Other books by Michael Harris:
The Signal Anthology
New & Selected Poems
Field Notes: Prose Pieces 1969-2012

Trade paperback
72 pp 8.5" x 5.5"
ISBN13: 9781550652864

CDN $16.00 US & International
US $16.00