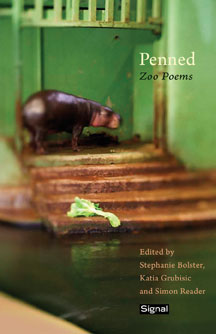 Penned: Animals in Zoos in PoemsEdited by Stephanie Bolster and Katia Grubsic
"They look back at the leopard like the leopard."–Randall Jarrell, The Woman at the Washington Zoo

Penned: Zoo Poems gathers English-language poems from around the world, spanning more than a century of captivation with the worlds inside the cage and out. Our guides on this journey, at times nostalgic, haunting, whimsical and provocative, include eminent and emerging poets-Margaret Atwood, Elizabeth Bishop, Lorna Crozier, Countee Cullen, Emily Dickinson, Lawrence Ferlinghetti, Gerard Manley Hopkins, Ted Hughes, AA Milne, Marianne Moore, Al Purdy, AK Ramanujan, and Matthew Sweeney. The poems themselves are as rich and varied as the species they corral. We wander through the poems of this eclectic anthology as through a zoo, looking back at the animal, to paraphrase Randell Jarrell, like the animal.
Signal Editions
Poetry 2009
Stephanie Bolster's first book, White Stone: The Alice Poems, won the Governor General's and the Gerald Lampert Awards in 1998. She has published two other collections, Two Bowls of Milk, which won the Archibald Lampman Award, and Pavilion. Raised in Burnaby, B.C., she now teaches at Concordia University and lives in Pointe-Claire, Québec.

Other books by Stephanie Bolster: White Stone: The Alice Poems

Trade paperback
172 pp 8.5" x 5.5"
ISBN13: 9781550652635

CDN $19.95 US & International
US $19.95