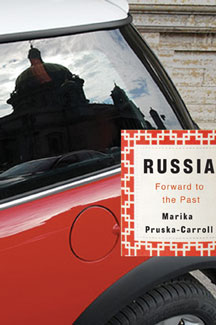 Russia: Forward to the PastMarika Pruska-Carroll
Russia: Forward to the Past captures Russia's new face and vision under the leadership of Vladimir Putin as it enters the 21st century. It is a companion volume and logical sequel to Pruska-Carroll's popular Russia Between Yesterday and Tomorrow that revealed the battered and confused Russia of the 1990s.

Pruska-Carroll provides an intimate look of the key elements of Russian society, post 2000, as well as its underside, with an intimacy not available to most observers. Her fluent Russian and knowledge of the country provide us with a unique report on the state of Russian society: the generation gap, the search for a new identity amidst the old icons, and the new paths that Russia is taking.
Véhicule Press
Political Science 2010
Trade paperback
180 pp 8.5" x 5.5"
ISBN13: 9781550652611

CDN $22.95 US & International
US $22.95