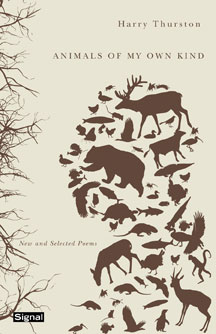 Animals of My Own KindHarry Thurston
Animals of My Own Kind is an outstanding introduction to the poetry of one of Canada's best nature poets. Widely admired for his descriptive powers, for twenty-eight years Harry Thurston has trained his naturalist's eye carefully, sensuously and idiosyncratically on his rugged Maritime landscape. In doing so, he has also staked out an emotional territory-a human inscape-remarkable for its hard-edged textures, fiercely-felt cadences, scientific unsentimentality, and empathetic range. Incorporating selections from his last six books, together with new work, these are poems made of bone, rock and water.
Signal Editions
Poetry 2009
Harry Thurston is one of Nova Scotia's best-known freelance journalists and the author of several collections of poetry, including A Ship Portrait and If Men Lived on Earth. His book on the Western Desert, Island of the Blessed, won the Evelyn Richardson Prize for non-fiction in 2004. He lives in Tidnish Bridge, Nova Scotia.
Trade paperback
120 pp 8.5" x 5.5"
ISBN13: 9781550652581

CDN $18.00 US & International
US $18.00