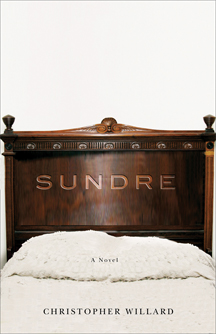 Sundre: A NovelChristopher Willard
An unsettling secret joins husband and wife as they sift through layers of recollection in a quest to find comfort, philosophical acceptance, and ultimately forgiveness.Set on a family farm in Sundre, Alberta during the late 1960s, at a time of transition when farming was shifting away from tradition, Sundre is a haunting meditation on the limits of love and mercy, on the natural and the unnatural.Told in a tone that is as dignified as it is unsettling, Sundre builds to a foreboding and fundamental revelation in a mood reminiscent of Sam Shepard's best drama. Sundre is an homage to a way of life bygone and to lasting hard-earned truths.
Véhicule Press
Fiction 2009
Christopher Willard, author of Garbage Head [Véhicule Press, 2005], is a writer and visual artist. His art appears in collections worldwide including the Metropolitan Museum of Art.
Other books by Christopher Willard:
Garbage Head

Trade paperback
160 pp 8.5" x 5.5"
ISBN13: 9781550652536

CDN $16.95 US & International
US $14.95

Ebook
8.5" x 5.5"
ISBN13: 9781550652734

CDN $16.95