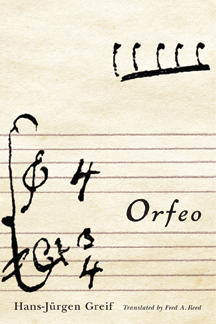 OrfeoHans-Jurgen Greif
Translated by Fred Reed
Hans-Jürgen Greif's novel calls forth, with the impetuous elegance of a baroque opera, the power of the human voice to stir our souls. It places the reader under the spell of a mythical voice-a castrato of our time.Lennart Teufel, a young man with a beautiful voice and great musical talent, is mutilated and orphaned in an automobile accident. Having recognized the boy's potential, a demanding and brilliant Italian teacher takes him under her protection, shields him from the outside world, trains him and recreates what the musical world had lost long ago-an irresistible, overwhelming voice to which nobody can resist. At the teacher's death, a former student of hers, now a renowned music critic, takes charge of the singer who has chosen a stage name bearing grave consequences, "Orfeo." On his path to celebrity, he unleashes passions he cannot control, endangering his life.Set in modern Germany, Hans-Jürgen Greif's novel communicates the power of the Italian castrati. He revives their exceptional performances and their hypnotic power over audiences. At the same time, the novel opens up questions of androgyny and human identity.
Esplanade Fiction
Fiction 2008
"...Boxer delights in the creative powers of language: he infuses life into every object, he explodes and implodes those objects, he creates alternate histories and secret lives for them, he imbues them with progeny." -ARC Poetry Magazine

"Here is an imagination able to fashion poetry out of grease and rust; out of a pocket or a table. Asa Boxer views the mechanical world that surrounds us, imbuing it with significance. Anyone reading these poems will never look at a hammer in the same way again. But The Mechanical Bird also engages the animate world, portraying it with wit and energy. A tree, for instance, is described as lsquo; 'growing blind with anticipation…tying knots into its skin.' (p.31) A sequence on 'The lie' offers this amusing advice: 'Butter your words on both sides/Not thickly but with finesse' (57). Innovative rhymes, unerring rhythms and a sure way with words mark Boxer's style. The Mechanical Bird is a welcome addition to Canadian poetry." -CAA judge

"Asa Boxer's, The Mechanical Bird, is the best book of a very current stream in Canadian writing: the western tradition of writing in form and often metre from the long history within which we write poetry. The form arrives easily, confidently and convincingly. Boxer's imagination is quixotic, surprising, compelling and his mind is sure. His poetry is like playing a harpsicord-when there were 32 notes compared with our now-thin octave of 8-striking all the right keys en-route to an effortless combination of subject and the best way to write about it. Music for the mind." -CAA Judge
Hans-Jürgen Greif was born in Germany, Hans-Jürgen Greif has taught French and German literature at Laval University, in Quebec City where he presently coaches singers at the Conservatory of Music. His novels, novellas and short stories have been translated into English, German and Spanish. He was nominated for the Governor General's Award for Fiction in 1990 for L'autre Pandore. The French-language version of Orfeo was nominated for the Prix France-Québec in 2004 and won the Prix d'excellence; Prix du Salon du livre [Québec] in 2004.
Trade paperback
240 pp 8.5" x 5.5"
ISBN13: 9781550652314

CDN $19.95 US & International
US $15.95