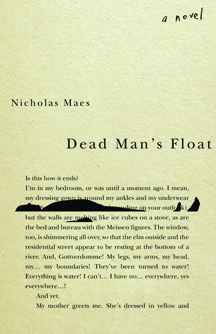 Dead Man's FloatNicholas Maes
I don't want to know

If your mama's a Jew

If you're hung up on Islam

Jesus Christ or kung fu

-Fictional lyrics from "Melting Pot" by Leonard Skye Barvis

Seventy-year-old Nathan Gelder has suffered a stroke. He is floating in a pool of tragic memories, half conscious of his family's visits and the ministering staff in a Toronto hospital. Past and present assail him unrelentingly.

Born a half-Jew in Holland, and scarred by the loss of his parents to the Holocaust, Nathan has been forever at sea. His serene, middle class existence in Toronto, as a fastidious translator and family man, has neither prepared him for the exigencies of the late 20th century, nor helped him overcome his profound sense of loss. Confusion has led to obsession, and obsession has led to a cleansing act of retribution.

As he lies suspended in his memories, his family catches wind of his crime. Is it possible this family man pushed mega-rock star Leonard Barvis to his death?

The media descend. Even as their cameras besiege his paralysed body, and the rock star's fans stage riots world-wide, he pleads for vindication. Unfortunately he is on his own.

Written in an elegant prose, with an equal mix of cantankerousness and mordant wit, Dead Man's Float is sweeping in its emotional impact. The result is a poignant, riveting juxtaposition of western history's darkest chapter and late twentieth century popular culture. Dead Man's Float will leave its readers gasping for air.
Esplanade
Fiction 2006
Nicholas Maes grew up in Montreal. He teaches Classical Studies at the University of Waterloo and history at the high school level. His short stories have appeared in Fiddlehead and the Dalhousie Review. Maes lives in Toronto with his wife and three children; this is his first novel.
Trade paperback
255 pp 8.5" x 5.5"
ISBN13: 9781550652116

CDN $22.95 US & International
US $17.95