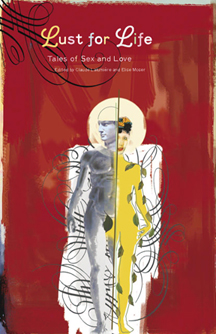 Lust for Life: Tales of Sex & LoveEdited by Claude Lalumière
Revised by Elise Moser
Lust for Life: Tales of Sex and Love is a smart, witty, and fascinating anthology celebrating the diversity of the human sexual experience. These stories are daring, playful, funny, romantic, genderbending, sensual, mysterious, and sexy, and explore and celebrate love and sex in all its forms.

Includes stories from Matthew Anderson, Catherine Lundoff, Neil Kroetsch, Robin Evans, Mark Paterson, Ashok Banker, Dan Rafter, Scott D. Pomfret, Neil Smith, Tess Fragoulis, Vic Winter, Harold Hoefle, Joel Hynes, Nalo Hopkinson, Nairne Holtz, Barry Webster, Ray Vukcevich, Holly Phillips, J.R. Carpenter, Maya Stein, and Ian Watson and Roberto Quaglia.
Family & Relationships 2005
"There is no Good Housekeeping seal of approval or Underwriter Laboratory certification for literature, but the name Claude Lalumière on the cover of a book is the next best thing." –Black Gate
Trade paperback
180 pp 8.5" x 5.5"
ISBN13: 9781550652031

CDN $18.00 US & International
US $12.95