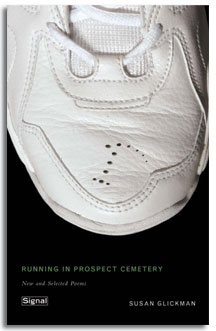 Running in Prospect Cemetary: New and Selected PoemsSusan Glickman
Running in Prospect Cemetery includes the best work from Susan Glickman's four previous volumes, as well as a large selection of superb new poems that continue to demonstrate her versatility, confidence, compassion and humour. Glickman has been a Signal poet since the publication of Complicity in 1983, a collection that prompted The Journal of Commonwealth Literature to hail her as "one of the finest of the new generation of Canadian writers," a promise she has brilliantly fulfilled in an extraordinary twenty-year career that has always stayed true to the poetry that, as she puts it in the title poem—is "wholly accepting of what I am / this small frame of muscle and bone." Susan Glickman was raised in Montreal and now makes her home in Toronto, where she teaches at the Lycée Français de Toronto. She is the author of four collections of poetry, and has won both the Gabrielle Roy Prize and the Raymond Klibansky Prize for her work of literary criticism The Picturesque & the Sublime: A Poetics of the Canadian Landscape. She is currently working on her second novel.
Poetry 2004
"The range is impressive." —Fuse

"An encouragingly broad range of responses to the AIDS crisis." —Afterimage
Susan Glickman
has won both the
Gabrielle Roy Prize
and the
Raymond Klibansky Prize
for her work of literary criticism
The Picturesque & the Sublime: A Poetics of the Canadian Landscape
. Her first novel,
The Violin Lover
[Goose Lane, 2006] won the
Canadian Jewish Book Award
for fiction. She teaches creative writing and is a freelance editor.She lives in Toronto, Ontario.
Other books by Susan Glickman:
What We Carry
The Smooth Yarrow
Hide & Seek
Henry Moore's Sheep

Trade paperback
140 pp 8.5" x 5.5"
ISBN13: 9781550651829

CDN $16.00 US & International
US $11.95