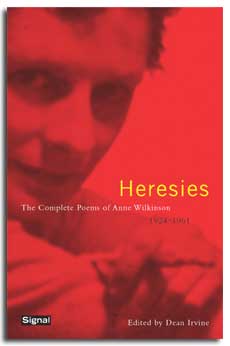 Heresies: The Complete Poems of Anne WilkensonDean Irvine
Edited by Dean Irvine
Anne Wilkinson [1910–61] holds a distinguished place among the major Canadian modernist poets of her time. Her poetry collections were praised by Northrop Frye, Desmond Pacey, Earle Birney, and Dorothy Livesay. Editors of literary magazines, including Alan Crawley, John Sutherland, Louis Dudek, and Fred Cogswell, actively sought her poems. Her poems have been broadcast on CBC Radio's "Anthology," recorded on "Six Toronto Poets," set to music by Oskar Morawetz, and stitched into a quilt by Joyce Wieland. Michael Ondaatje's novels In the Skin of a Lion and The English Patient have paid quiet homage to her poetry and journals. Essays by literary critics Robert Lecker and Douglas Barbour, and editions of her work edited by A. J. M. Smith and Joan Coldwell have kept her poetry alive in the academy. These collective interests in the poetry of Anne Wilkinson attest to its enduring value and its ongoing appreciation by a phenomenal range of readers, critics, editors, writers, and artists.

Heresies: The Complete Poems of Anne Wilkinson [1924–1961] is a comprehensive edition, including all of Wilkinson's previously collected, uncollected, and unpublished poems. In addition to reprinting her volumes Counterpoint to Sleep [1951] and The Hangman Ties the Holly [1955], this edition incorporates other poems first collected in A. J. M. Smith's edition of The Collected Poems of Anne Wilkinson [1968] and 46 previously uncollected poems omitted from his edition.

Editor Dean Irvine provides an informative introduction to Wilkinson's poetry and an extensive section of textual notes, chronicling the publication histories of, and revisions to, her poems. These textual notes will enable readers to follow the genesis of each poem through successive drafts and printings and to witness the revisionary and editorial practices that shaped her poems. Heresies is an innovative edition, applying current editorial theories to establish the "genetic text" of Wilkinson's complete poems. It is an edition designed in the interests of general readers, scholars, and editors alike.
Poetry 2003
"What has kept [Wilkinson's] best poetry current is a combination of taut craft, inventive wordplay, oneiric surrealist imagery, wry wit and, perhaps most importantly, a gravitational pull on the reader's emotions. ...Irvine's yeoman's labour has established the definitive text of Wilkinson's oeuvre." -Books in Canada "The actual person of a writer does much in Canada to keep up enthusiasm for the work; without the living woman, her reputation suffered and her books went out of print. Recently, however, the general interest in Canadian literature as a whole and the new enquiries into writing by women have combined to bring Anne Wilkinson's poetry back into light. There have been some perceptive critical essays in recent years . . . and new editions of her work are appearing. These will surely succeed in restoring Anne Wilkinson to her deserved place as one of the important figures in the history of Canadian literature." -Joan Coldwell
Dean Irvine teaches at Dalhousie University. He has edited Archive for Our Times: Previously Uncollected and Unpublished Poems of Dorothy Livesay [Arsenal Pulp Press, 1998]. He is presently editing a scholarly edition of F. R. Scott's complete poems and translations for the Canadian Modern Poetry: Texts and Contexts series [Canadian Poetry Press].
Trade paperback
255 pp 9" x 6"
ISBN13: 9781550651621

CDN $24.95 US & International
US $24.95