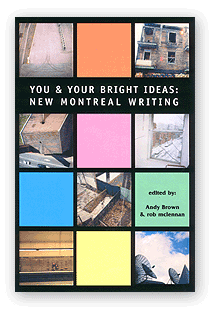 You & Your Bright Ideas: New Montreal WritingEdited by Andy Brown and Rob McLennan
Combined, the editors of this anthology of new Montreal writing have been issuing small press books, chapbooks, comics and broadsheets for over a decade. One is Ottawa-based, providing an outsider's perspective, and the other works in the heart of the Montreal's anglophone under-ground. Collected here are many of the Montreal writers they have published over the past few years and who they believe are producing not only the best writing in Montreal, but some of the best writing, period. English writing in Montreal has had the distinction of being isolated from the rest of the country, left to stew in its own creative juices, with very few English-language presses and little support for English work. Consequently it has developed along alternate paths and has created its own vibrant culture. The spoken-word community in particular has become a source of envy outside the city. The writing in this anthology, international in scope, reflects the migratory nature of the anglophone community while drawing inspiration from the city itself. Some of these writers have only a handful of publication credits but put out chapbooks and perform constantly around town at a variety of impressive cabaret events. Others have a couple of books under their belt. Not always concerned with conventional styles, many of them are on the cusp of notoriety. The editors believe that this anthology will introduce a wider audience to this latest Montreal Renaissance. Included are: Catherine Kidd, Corey Frost, Billy Mavreas, Sue Elmslie, Tess Fragoulis, Anne Stone, Heather O'Neill, Liane Keightley, Ian Ferrier, Meg Sircom, Masarah Van Eyck, Lydia Eugene, Andy Brown, Valerie Joy Kalynchuk, Dana Bath, Jonathan Goldstein, Lance Blomgren, Yvette Poorter, David McGimpsey, Jon Paul Fiorentino, Dean Irvine, and Susan Gillis.
Poetry 2001
Andy Brown is the author of the short story collection I can see you being invisible [D.C. Books, 2003] and founder of the acclaimed small publishing house Conundrum Press. He lives in Montreal.
Trade paperback
160 pp 8.5" x 5.5"
ISBN13: 9781550651522

CDN $16.95 US & International
US $16.95