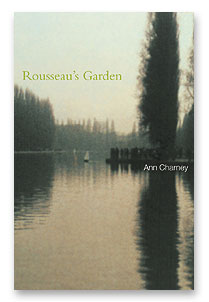 Rousseau's GardenAnn Charney
A crisp March morning in the Buttes-Chaumont park in Paris. Claire, waiting to meet her husband, Adrian, has more than a tourist's passing interest in the place. She has come to France to be with Adrian while he researches a book on French gardens, but Claire's real mission is to find out what happened to her mother, Dolly, during her last stay in Paris. A promising sculptor and ardent admirer of the philosopher Jean-Jacques Rousseau, Dolly suffered a mysterious decline following her return home from the City of Light. Now severe panic attacks are forcing Claire to abandon her own work as a photographer. Is she repeating her mother's pattern? The answer, Claire believes, lies in the past. Claire retraces Dolly's footsteps in Paris and in the nearby countryside, where Rousseau's spirit is still discernable. Claire's quest in France is filled with more than one startling discovery as she, Adrian, and their friends, navigate the tricky terrain of marriage, parenthood, friendship, and love.
Fiction 2001
Rousseau's Garden is an intricate portrait of characters whose actions and reactions are rendered with the subtlest of palettes...Charney is a relentless psychological investigator. -Marianne Ackerman, The Montreal Gazette.

"Throughout the book, Charney makes excellent use of images of the natural world, compared to hostile, sterile, man-made environments...The author has a thorough understanding of the attitudes and issues dominating dinner talk in Paris today...Charney focuses her considerable talent and insight into the relations among friends, lovers and family members, and does so in a gentle, perceptive way...This is an informative and ultimately satisfying book." -Lauren Davis, The Globe and Mail.

"Very much a book about grownups, for grownups, unusually preoccupied with the world of ideas and relations between generations or politically and intellectually active people." -Susan Walker, The Toronto Star.

"Elegant and cosmopolitan...The settings are wonderfully evoked, from the baths in the Paris Oriental Quarter to a decrepit chateau outside the city. Charney's writing is thoughtful and meticulously observed...Rousseau's Garden, is rather like life, actually--only nicer, because it's Paris and the food is superb." -Maureen Garvie, Quill & Quire.

"Charney is a polished and elegant writer." -Robin Roger, National Post.

"Canadian author Charney has the wisdom to let her story speak for itself, and it does so very affectingly. The result is a quiet, dignified work with telling insights that make one pause to reassess one's own life. A lovely little gem." -Barbara Hoffert, Library Journal.

"Rousseau's Garden could break through to the audience Charney deserves." -Judy Stoffman, Toronto Star.

"Occasionally, one can still learn things in books. With Rousseau's Garden, Ann Charney has written a novel that not only reads well, but is also pleasantly instructive." -Louis Hamelin, Le Devoir.

"I thoroughly enjoyed Rousseau's Garden by Ann Charney. Its appelaing cast of characters and its depiction of the pleasures of France guarantee hours of happy reading." -Carmen Montessaulut, Le Journal de Montréal.

"Ann Charney writes with wisdom and candor, and without a trace of affectation. Her finely wrought work tackles the problems that affect us all with cheerful lucidity. Rousseau's Garden will continue to engage you long after you've set it aside." -Bernard Michaud, Indicatif présent, Radio Canada.

"Ann Charney observes the changeability of human behavior with the patience and the magnifying glass of an entomologist. Throughout this delightful novel, that melds landscape and characters with great felicity, Ann Charney's writing always rings true." -ELLE magazine

"In Ann Charney's writing, places are never simple decor. They come to life, as do her characters, with all the subtlety and complexity that comes with being human. She uses words to created magic." -Magazine Centre-France

"Rousseau's Garden is one of those rare books that you stop yourself from reading quickly so that it will last forever. And when it ends, you close it with regret." -Psychologies magazine

"There is so much that delights in this novel, one hardly knows where to begin. Every page demonstrates Ann Charney's profound psychological wisdom. The characters in this novel will remain with you long after the book ends."-Le Temps - Samedi Culturel (Geneva)
Ann Charney has received awards for her fiction and non-fiction, including two National Magazine Awards, the Chatelaine Fiction Prize, and the Canadian Authors' Association Prize.
Defiance in Their Eyes: True Stories from the Margins
[Véhicule] was a finalist for the 1996 QSPELL Non-fiction Prize. Rousseau's Garden has been translated into French and German and is also being published in the U.S. fall, 2001. Her novel Dobryd was published in France, Germany, Italy, and the U.S.
Other books by Ann Charney:
Defiance in Their Eyes: True Stories from the Margins

Trade paperback
224 pp 9" x 6"
ISBN13: 9781550651461

CDN $18.95 US & International
US $18.95