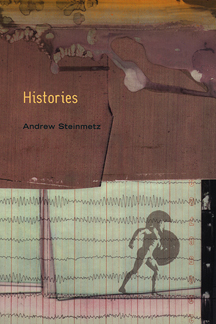 HistoriesAndrew Steinmetz
Histories is an eclectic and unusual poetry debut from the author of the creative non-fiction work Wardlife: The Apprenticeship of a Young Writer as a Hospital Clerk published to acclaim in 1999. From the medical history to family history, Histories reveals a poet of multiple personas and postures. Steinmetz chooses the clinical medical history to render sympathetic minimalist portraits of the sick and dying. These dramas, spoken between clinicians, are no less than the public screening of private lives. Histories plays like an ensemble of voices-wry, philosophical, and romantic.
Signal
Poetry 2000
"Charged with emotional freight, Steinmetz delivers. Steinmetz is heroically attempting what so few of his contemporaries dare: a divorce from prosaic rhythms and a heated affair with untested syntax." -Jana Prikryl, Literary Review of Canada

"...here is another astonishing poet emerging from Montréal. Who knows where Steinmetz is going, but I know it's not on a second-hand bookshelf." -Julie Genet, Hour

"The clinical jargon of Steinmetz's "medical histories" yields effects that are waggishly eccentric and sometimes quite moving." -Carmine Starnino, Montreal Review of Books
Andrew Steinmetz is the author of a memoir,
Wardlife: The Apprenticeship of a Young Writer as a Hospital Clerk
and two collections of poetry,
Histories
and
Hurt Thyself
. Steinmetz's work has been shortlisted for the Edna Staebler Award, the Quebec Writers Federation [QWF] First Book Award, the Mavis Gallant Prize for non-fiction, and the A.M. Klein Prize for Poetry. Presently Steinmetz is the editor of Esplanade Books, the fiction imprint at Véhicule Press. He lives in Ottawa.
Other books by Andrew Steinmetz:
Wardlife: The apprenticeship of a young writer as a hospital clerk
Because
Trade paperback
96 pp 9" x 6"
ISBN13: 9781550651416

CDN $12.00 US & International
US $12.00