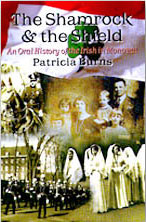 The Shamrock and the Shield: An Oral History of the Irish in MontrealPatricia Burns
Although there have been some Irish living in Montreal since the early 1600s, augmented by Irish soldiers arriving with the conquering British army, it was only in the early 1800s that an Irish presence was truly noticed. By 1824 there were sufficient Irish in Montreal to organize the first St. Patrick's Day Parade, and ten years later the St. Patrick's Society was founded. In 1847 St. Patrick's Basilica, Montreal's first church built for the Irish Catholics opened--a year before thousands of sick Irish escaping the famine in Ireland arrived.

To remember history demonstrates pride in our heritage. Oral history makes our past come alive by putting a human face on bare facts. Patricia Burns grew up in Montreal listening to her grandparents and parents relating tales of men freezing to death on sailing ships and of rum-runners being killed by police. Remembering these stories, she has continued the tradition, and since 1991 she has been recording the memories of men and women from all walks of life, many who grew up in the working class community of Griffintown.
History 2005
"A story well told ... and expertly edited." -Canadian Book Review Annual

"History comes alive with Burns' use of oral history. For those of us with Irish ancestors in early Montreal, you'll certainly appreciate this treasure trove of stories." -Trish Hopkins, Family History News

"The Shamrock and the Shield is a book to savour." -Nora Marsh, Canadian Content

Out of print