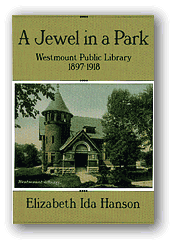 A Jewel in a Park: The Westmount Public Library 1897-1918Elizabeth Hanson
When the Westmount Public Library was opened in 1899, it was the first tax-supported public library in the province of Quebec and one of the first established outside Ontario. In 1897 an aging British monarch, a young Canadian town, and a reneging utility company, prompted the establishment of this unique library as a permanent memorial to Queen Victoria's Diamond Jubilee. In addition to telling the fascinating story of the Westmount Public Library, Elizabeth Hanson looks at the broader picture of Quebec and Canadian library development. In late nineteenth and early twentieth century Canada, public libraries were a mixed bag. But at their finest—and the Westmount was clearly that—Canadian libraries laboured unstintingly to provide Canadians with free access to a wide range of ideas.
History 1998
Elizabeth Hanson [Ph.D.] is a librarian at the University of Indiana Libraries.
Trade paperback
176 pp 9" x 6"
ISBN13: 9781550650877

CDN $17.95 US & International
US $17.95