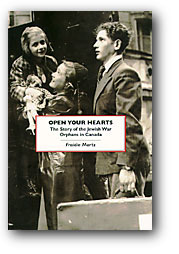 Open Your Hearts: The Story of the Jewish War Orphans in CanadaFraidie Martz
Awards: Winner, 1997 Joseph and Faye Tannenbaum Award for Canadian Jewish History
Open Your Hearts tells the story of the 1,123 Jewish war orphans which the Canadian government reluctantly allowed into Canada from 1947 to 1949. In the cavernous reception area of Pier 21 in Halifax on a gray September day in 1947, a group of men and women waited for the first twenty Jewish orphans who had survived the Holocaust in hiding or in concentration and labour camps. They were allowed into Canada under the terms of a unique federal order-in-council. This was not only the beginning point of their new lives, but also the culmination of years of work by Canadians across the country. No one knew, given the terrible traumas these young people had endured, what to expect; no one knew the extent of the kindness and generosity which awaited them in Canada. Drawing on archival materials, memoirs, diaries, and oral interviews the author recounts what happened as the European orphans and their new country adapted to each other. Open Your Hearts is first and foremost a human interest story about how children and adolescents, traumatized by the Holocaust and deprived of everything considered essential for normal development, flourished and became productive citizens in the care of a protective community. It also chronicles a unique experiment in the integration of refugees by an ethnic community—an experiment which may hold lessons for current immigration policy in Canada.
History 1998
Vancouver author
Fraidie Martz
is a psychiatric social worker by training. She became interested in John Hirsch when she wrote
Open Your Hearts
[Véhicule Press, 1996], the story of the Jewish war orphans who came to Canada after World War II, of whom Hirsch was the most famous.
Other books by Fraidie Martz:
Fiery Soul: The Life and Theatrical Times of John Hirsch