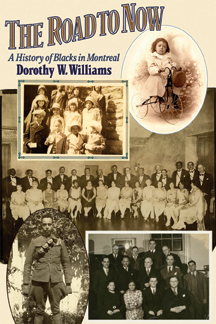 The Road to Now: A History of Blacks in MontrealDorothy Williams
Blacks have always been a part of the Québec experience-from the original European explorations to enslavement, from Confederation to the present day. Dorothy Williams returns to the roots of black history by chronicling slavery in Montreal, which lasted officially in New France for seventy-one years. The author describes the impact of the railways on Montreal's black community and charts the evolution of the black community's institutions.
History 1998
"Williams' readable analysis provides a solid portrait of Montreal's black community... [It] could serve as a comparative study to the black experience in other major Canadian cities... an excellent piece of local historical research." -Canadian Social Studies

"[A] well-researched account... In the preface to her book, Dorothy W. Williams offers the reader her 'effort to describe the many facets of black presence in Montreal.' She has achieved her aim admirably well." -Montreal Serai
Dorothy W. Williams is the author of Blacks in Montreal, 1628-1986: An Urban Demography and the recipient of the Mathieu da Costa Award given by the Black Coalition of Quebec.