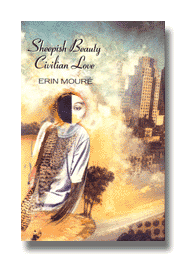 Sheepish BeautyErin Mouré
Erin Mouré's poetic journey explores the power of language and love in ways that are uncompromising and always exciting. Sheepish Beauty, Civilian Love is an extended outcry on the will to tenderness even in the face of its absence.
Signal
Poetry 1998
"I devoured these stories in one hungry afternoon of reading...as I read, I ranged through discomfort, old sadness, nostalgia, admiration, tenderness, pride, and anger as I was taken back to look again with the help of these additional perspectives, into the secrets and intimacies of my childhood." —Joy Kogawa
Erin Mouré is an award-winning poet (Governor General's, QSPELL) with ten published collections to her credit. Her work has appeared in every major Canadian literary journal as well as several American publications.
Other books by Erin Mouré:
West South West
Trade paperback
112 pp 9" x 6"
ISBN13: 9781550650280

CDN $9.95 US & International
US $9.95