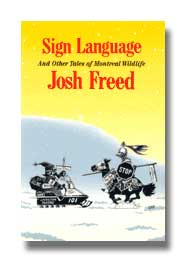 Sign Language and Other Tales of Montreal WildlifeJosh Freed
Sign Language is a celebration of city life, even the moments that cause us grief. When Josh Freed writes about the agony of looking for a public toilet, the ecstasy of finding a parking spot, the intricacy of managing a VCR, we wince in recognition and chuckle at the craziness of urban survival. Sign Language is Freed's unique humourous fix on the world around us.

With illustrations by Aislin and
Humour 1998
JOSH FREED is an award-winning filmmaker, writer and journalist who works in every medium but the hammer and chisel.
For his writing, Freed has won two National Newspaper Awards as Best Canadian Columnist for his weekly column in the Montreal Gazette.
Freedís documentary films have been seen in over 50 countries. His awards include: the World Medal for Investigative Filmmaking at the New York International Television Festival and two Chris Awards for Best North American Current Affairs Documentary. In Canada, Freed has been nominated for three Geminis, three WGC awards and a Genie. His documentaries have been seen on CTV CBC, PBS, A&E, throughout Europe and elsewhere.
Freed is also the author of several popular books, including Moonwebs; Vive Le Quebec Freed; The Anglo Guide to Survival in Quebec; and Fear of Frying, which won him the Stephen Leacock Prize for humour

Other books by Josh Freed:
Press 1 and Pray: Letters From Voice Jail
Moonwebs: Journey into the Mind of a Cult
He Who Laughs, Lasts
Fear of Frying and Other Fax Of Life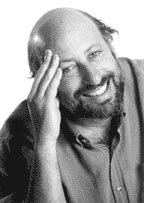 Trade paperback
160 pp 9" x 6"
ISBN13: 9781550650136

CDN $12.95 US & International
US $12.95