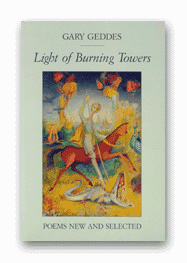 Light of Burning Towers: Poems, New and SelectedGary Geddes
Light of Burning Towers is a distillation of Gary Geddes' best work from twenty years of writing poetry, including lyrics that range from Chilean death squads to tributes to poets such as Larkin, Pound, Marvel, and Tu Fu. In addition to "The Terracotta Army" readers will find the stunning narrative called "Letter of the Master Horse" which won the E.J. Pratt medal and prize from the University of Toronto in 1970 and has been described as a contemporary classic.
Signal
Poetry 1990
Gary Geddes is also known as an editor, translator, critic, anthologist, playwright, and writer of fiction. He has travelled widely in Europe, Asia, and Latin America and his poetry has been translated into five languages.
Trade paperback
160 pp 9" x 6"
ISBN13: 9781550650075

CDN $12.95 US & International
US $12.95