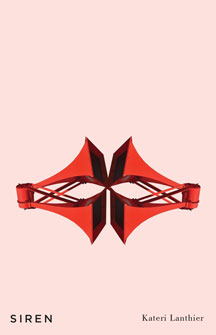 SirenKateri Lanthier
Mysterious, witty and musical.

Siren, Kateri Lanthier's astonishing second book, calls us to attention. In her search for what she calls "compelling melancholy," Lanthier's new poems not only draw on the ghazal's history as love poetry but remind readers of the dangerous and alluring quality of the ancient form itself. The siren was a lethal yet seductive figure, and that sense of power—and as well as her fast-taking bemusement at her own reputation—is present in lines that marry unnerving dream logic to emotional fearlessness. Siren is an uncompromising achievement: an original style at once mysterious, witty and musical that refines and clarifies the world in consistently surprising ways." Call it playing with fire. Call it connect-the-dots lightning."
Signal Poetry
2017
Kateri Lanthier's work has appeared in numerous journals, including Green Mountains Review, Hazlitt and Best Canadian Poetry 2014. She was awarded the 2013 Walrus Poetry Prize. Her first book of poems is Reporting from Night (Iguana, 2011). She lives in Toronto with her family.
Ebook
ISBN13: 9781550654738

CDN $17.95
Trade paperback
80 pp 8.5" x 5.5"
ISBN13: 9781550654660

CDN $17.95 US & International
US $14.95